What does it take to create evergreen content for your social media marketing use, especially when these days, every marketer has to be part designer, photographer, videographer, copywriter, editor and more?   Without the right tools and skills, this can take far more time than you have each day, so here are 30 great social media tools that can make your job easier.

1. Boomerang is an Instagram app that takes a series of photos and creates a GIF-like image but plays the video forward, and then backward, and then loops that continuously.
2. Unfold provides beautiful, minimal templates for all your Instagram Story needs.


3. Manual enables you to adjust shutter speed, ISO, and exposure values, and capture images in RAW format with or without compression, JPEG format, or both.

4. Hyperlapse by Instagram enables you to create tracking shots and fast, time-lapse videos that were previously impossible without bulky tripods and expensive equipment.
5. VSCO allows you to fully unleash your creativity with a photography community as well as editing tools and presets.

6. CutStory allows you to take videos of any length and cut them into clips formatted for each social media platform. For example, it will take a one minute video, and cut it into four, fifteen-second clips so you can directly upload it to your Instagram story.

7.  Word Swag lets you add attractive and engaging text to your photos in a matter of seconds. Perfect for feed content and Stories.
8. A Design Kit easily adds modern and colorful designs to your photos.

9. Spark Camera is a fun way to capture photos and video in full 1080p HD for Instagram Stories and IGTV.

10. Animaker makes it easy to create animated videos with impressive effects without needing any technical skills in creating animations.

11. Anchor is a social media platform for audio that creates audio recordings and videos that transcribe the audio that are great for sharing on social media. Our favorite app for creating podcasts!

12. Canva helps you create professional designs and graphics with professional templates you can tweak. Edit photos, add text, elements, stickers, borders, frames and more.

13. Splice is a free video editing app by GoPro with a lot of features and a library of free music and sound effects.
14. Over makes creating branded images fun, effortless, and fast. Use it to edit images and video.

15. Adobe Spark is a fast content creation software which lets you easily combine text, images, and video content for better storytelling online.
16. Adobe Premiere Clip can automatically create a video based on your selected photos or videos, or you can create a highly customized video yourself.

17. CloudApp is a great tool for grabbing a screenshot and adding annotations, recording a video of your screen or yourself, or creating GIFs.

18. Piktochart creates infographics, with an unlimited number of graphics allowed and over 4,000 icons and images in the free plan.


19. Legend lets you craft text animations with just a few taps with templates created by professional motion designers.
20. BeFunky Graphic Designer is the perfect tool if you're looking for a way to quickly create collages and other photos, You can also make cards, banners, brochures, and posters with this fast content creation software package.

21. Layout by Instagram lets you easily combine multiple photos into a single image.

22. Infogram offers over 35 types of charts, 500 types of maps, and a million images and icons to help you visualize your data beautifully.

23. Stencil's browser extension lets you grab an image or text from any website and convert it into a beautiful graphic.
24. Photo Collage opens with a blank canvas where you can add your photos and arrange them. You can also add text. It includes a handy tool to create your collage automatically if you don't want the hassle of arranging the images yourself.
25. SlideShare by LinkedIn, gives you a platform to build, upload, and edit presentation decks and share them on social media. The list of sharing sites includes Facebook, Twitter, Google+, and of course LinkedIn. Email, links, WordPress shortcodes, and iframe embedding are also available to share your work.

26. Lumen5 is one of the more interesting visual content creation tools on our list. That's because it uses artificial intelligence to let you create a video from text. Enter a URL and the software will create videos to match, including photos and music. This is definitely one to keep an eye on.

27. Placeit allows you to showcase digital product and designs in realistic environments without an expensive photo shoot.

28. Magisto lets you synchronize audio and visual aspects to make an emotional connection with the viewer. Share your videos on Facebook, Google+, Twitter, YouTube, or your own blog.

29. gifs.com not only allows you to create GIFs quickly but also add effects such as captions, stickers, padding, and more.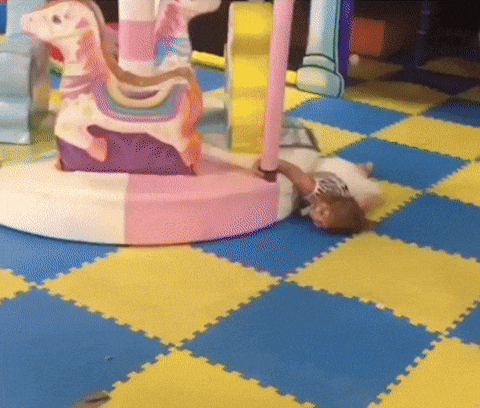 30. BIGVU Teleprompter displays your script as you record your video for easy reference, as well as change the background and add captions.